Risk Management Takeaways for Successful Families
Read in 5 minutes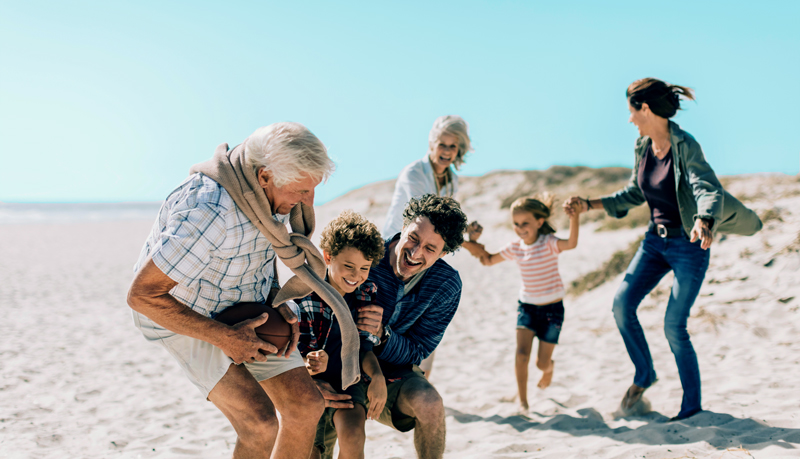 The most successful family enterprises, namely those with single family offices whose wealth results from the private ownership of a business, have managed to sustain significant holdings through multiple generations. This feat ­necessitates navigating many different risks over long periods of time which offers valuable risk management lessons for any successful family, enterprise or not.
Recently, we conducted our Family Enterprise Risk Index, a landmark survey of 145 family enterprises across the country, to better understand their current outlook on risk, along with what risk management practices are in place. We compiled the findings for the most relevant lessons that can help you and the many successful families, who are not part of a family enterprise, better improve their risk resiliency. The learnings below are based on our comprehensive analysis and include best practices for risk management that all high-net-worth households should consider.
Takeaway 1: The person who oversees risk management is too often not a risk management expert.
Our index uncovered that most of the family enterprises surveyed do not employ a risk management specialist, despite the challenging and changing landscape. In fact, 70% put risk management in the hands of an executive who also provides services such as tax preparation, bookkeeping and administration, insurance purchasing, investment management, philanthropy and trustee services. While we certainly don't expect you to hire a full-time risk manager, it is still important to note based on this finding, that whoever is working with your insurance broker, whether that is a family member or an advisor, likely has many other tasks on their plate as well. From our experience, that means things like annual reviews, scheduling collectibles and updating beneficiaries may be delayed or could be overlooked.
The solution: We send out regular communications about risks and insurance matters to keep you informed and we also encourage setting up annual reviews with your insurance advisor. Having an expert that you rely on, and that you can consult regularly, is invaluable.
Takeaway 2: Family risks and educating the rising generation are not necessarily priorities.
Among the most concerning findings of our study: more than 76% of respondents had no systematic or regularly scheduled risk-review process for the family. Furthermore, 41% conducted reviews on an ad-hoc basis only, and another 30% failed to conduct them at all. This leaves the family (and the enterprise) vulnerable.
Even more concerning, of those respondents that conduct either an ad-hoc or annual risk review, we found that 63% do not have an education process in place for the rising generations. And yet, as risk experts, we know that children, especially teenagers, bring specific challenges to the intergenerational table: problematic social media presences, unsupervised parties, car accidents, even issues related to apartments or hazing incidents in college. If such a lapse in focus occurs even in enterprises with the most to lose from it, we feel it is essential to remind every one of our clients to find time to discuss risk as a family.
The solution: Rising generations need to be educated about risk and the potential impact of their indiscretions not only to their own lives but to your family's well-being, too. In our experience, these conversations are the best way to improve risk resiliency. Families should meet each year to review coverage and make sure all is accounted for. (Your insurance advisor will always be happy to lead this conversation.) Likewise, parents should discuss with their children the various exposures they can, unwittingly, subject the family to, periodically at the dinner table and pointedly around life milestones, such as getting a driver's license.
Takeaway 3: Even when families do talk about risk, they often miss key vulnerabilities.
Of the eight family-related risk areas surveyed, most respondents only had a plan in place for managing domestic staff. In fact, just around one-third of respondents had a plan in place for all other situations, which include concerns like travel emergency preparedness, emergency preparedness for natural disasters and family reputation management. These findings could potentially leave families within the enterprise vulnerable to a number of risks.
The solution: When you are assessing your risk with family members or advisors, be sure you are looking holistically at all areas of risk. Additionally, confirm your insurance program adequately considers your current situation and covers all your exposures. Has your property become more susceptible to natural disasters? Have you sufficiently shielded yourselves from reputational damage? Are you covered if someone gets into trouble or falls ill while traveling abroad?
These days, every successful family should understand that they are navigating a more diverse and complex set of risks due to the increase in natural disasters, cybercrimes, public health crises and the like. Even those who you would expect to be best positioned to deal with the evolving landscape, such as family enterprises, fall short in some areas. We can all learn a lot from their reality. Please contact us with any questions or concerns about your own risk management program.