No Paddles, No Problem: How to Navigate Online Auctions
Read in 4 minutes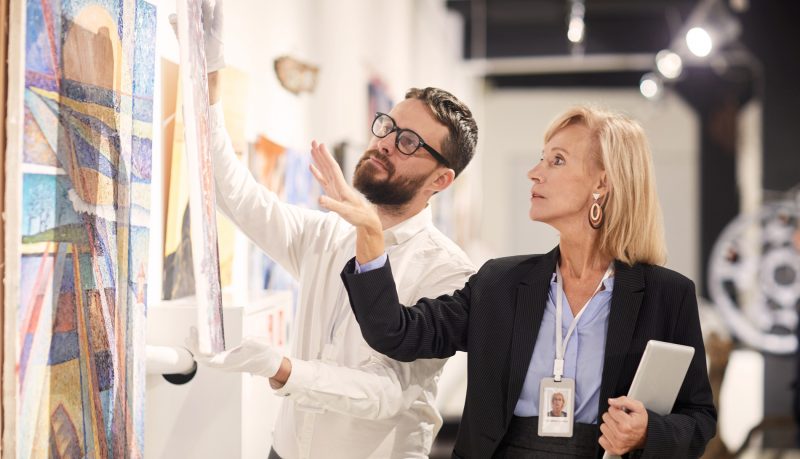 Although in-person auctions have returned, it seems safe to say that the landscape has been forever altered by the pandemic and its year of virtual events. With so many collectors, especially newer and younger ones, taking quickly to the online format, experts believe that virtual bidding, be it on fine art or wine or cars, will be here to stay. So now is as good a time as any to consider the risks of this evolving format and the steps you need to take to best protect yourself and your future purchases.
Here, our dedicated experts from our Fine Art & Collectibles practice, have highlighted the most pressing considerations:
Due diligence is more important than ever.
Yes, big and reputable auction houses continue to do the same careful vetting of title and provenance that they did before the pandemic. But because you, as the potential buyer, are less likely to be able to see pieces first-hand before the auction, you have to rely on the accuracy of condition reports and photographs, and that's just not the same as trusting your own eyes.
So, to be safe, your best bet is to do some vetting of your own (or have a trusted art consultant do it for you). As David Sleeman, executive director of the appraisal firm, Winston Art Group, cautioned in The New York Times, online buyers (especially new ones) don't always do the research it takes to trust the sellers. "Acquiring real estate, a business — there would be a lot of due diligence," Sleeman said. "But oftentimes when a collector is considering making a purchase of an equally expensive painting, they don't do the same due diligence." That means checking public listings, verifying provenance and scouring the condition report. This caveat is doubly important when smaller auction houses and galleries are involved, because art fraud happens even when you're engaging with reputable dealers. Similarly, there were reports of fake wines and even counterfeit whiskey rings at online auctions during the pandemic. The more legwork you can do on your end, the more confident you can be about a purchase.
The insurance market is still evolving for booming NFTs.
The market for the digital art known as non-fungible tokens, or NFTs, has taken off in a hurry. But as the values for these pieces remain in flux, so too will the toolkit needed to insure them. At the moment, NFTs are being treated as a cryptocurrency/cyber-insurance play because their value is in the digital "key" that unlocks access to them. This makes them similar to collected pieces of conceptual art, for which the value lies in a certificate of ownership in addition to the work itself. It's important to note that the most valuable NFTs require you to keep the key in a storage facility with a nuclear-level security protocol.
If you are interested in getting into the NFT market, you may consider to first familiarize yourself with the terms and scope of what is being sold, as well as do as much due diligence as possible about the seller and the site. At the same time, engage your insurance advisor early in purchasing process as coverage terms and conditions can be complex.
It can be harder to gauge demand online, and that may affect long-term value.
When participants are all gathered on an auction floor, it's easy to judge interest in a particular piece by the bidding it spurs. Even phone bidders often communicate with a compatriot who scouts the floor to gauge enthusiasm. All of which is to say it's worth acknowledging that the new remote auction format could well impact the hammer price and thus future value of any investment.
Physical distance shouldn't delay any precautions around new acquisitions.
As soon as you buy an item you become the responsible party. Whatever existing valuable article's insurance you have may cover a portion of its value, but likely not all, so you need to inform your broker immediately of any major new investment. If you don't have the appropriate coverage, your broker can easily add the new pieces to your policy.
In addition, you always want to make sure that you hire experienced professionals to handle the transit and storage of your acquisitions. For instance, fine art movers will know what type of packing materials may actually damage your piece, and wine experts will know just what temperature your storage area must be.
Online auctions are a great way to further your collection when geography makes physical presence difficult, but, as always, it's important to know the risks and, when possible, take precautions to minimize any potential problems. And, of course, online, in-person, or however you acquire your next collectibles, we are here to answer all of your questions about coverage and protection.