In the Driver's Seat: Protecting Your Car at Concours and Auctions
Read in 5 minutes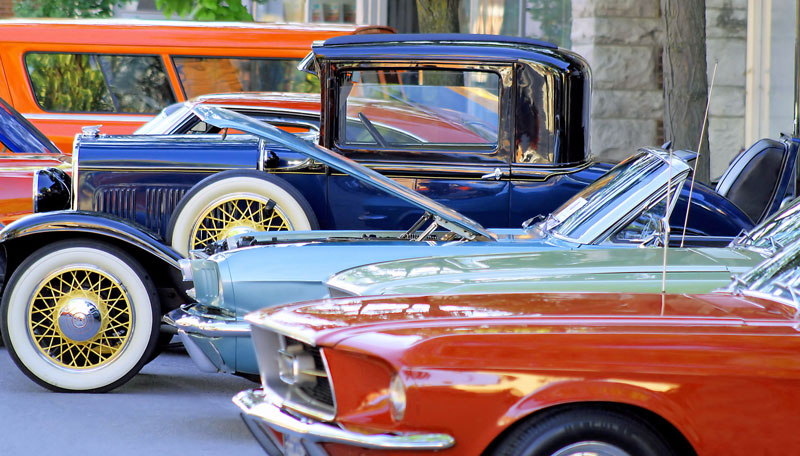 Car collecting is a glorious passion, shared by a tight-knit community that happily stewards the world's finest machines. There's a special camaraderie with our car-collector clients, as we find them to be exceptionally passionate and engaged in their pursuit. Car collectors have a culture of sharing, with everyone quick to show off their vehicles, be it on a drive, or at auctions and showcasing their beautiful craftsmanship at events. In fact, many will tell you that there is nothing quite like being asked to exhibit on the field at Pebble Beach or Amelia Island.
Of course, with any passion comes risk. So, whether it's a slow parade of lovingly vintage roadsters or a local competition of restored muscle cars, we want to be sure your experience brings more pleasure than concern. To that end, here are our risk management best practices for taking your car to shows and auctions.
To the Concours!
First off, congratulations! To be recruited by a show's selection committee is quite an honor, which speaks to the uniqueness or beauty of your automobile. But it is also one more reminder that you want to be doing everything in your power to ensure your investment is fully protected. That means you need to: 
Take care in transporting your vehicle.
If you intend to use a third-party transporter, hire one with experience handling high-value collectibles. Even then, it is important to understand how much cargo coverage they carry on each truck. While some shippers offer upwards of $5 million, others offer none at all. And even $5 million may not be enough if a truck happens to be hauling $80 million worth of cars when an accident or other negligible event occurs. In any event, it is best to call your broker to confirm that you will be suitably protected. This check-in can be useful for another reason, too: One of our clients spent an extra $10,000 to insure the transport of his car to a rally in Israel, only to learn later that he already had global coverage in place.
If you are moving a vehicle with a borrowed truck and trailer, know that whoever is doing the driving accepts responsibility for the car while it is in their custody and control. That person, then, needs to carry sufficient insurance—unless your policy stipulates that it will cover the bill should something happen.
Regardless of how you choose to transport, take a video of the car before handing it off. Walk around the car completely to fully record its condition. (To protect their own interests, many professional transporters will do this as well.)
Make sure your coverage will adequately protect your vehicle once it is at the show.
The first priority is verifying that you have the proper liability in place for any potential mishap at the event. This is particularly important if your vehicle is either self-insured or not street legal, since you may not have liability protection should you cause bodily injury and/or property damage. This may be one of the rare times the vehicle will be driven around people— workers, spectators, and others at the show— and you want to make sure you are protected on the off chance something happens.
Run a background check on any car handlers you intend to hire, including whether they are properly licensed and insured with acceptable driving records. If they are members of your full-time staff, consider this a chance to audit the insurance program that you have for them.
It is worth asking your broker to review any waivers connected to the event to determine what organizers agree to cover, particularly in relation to security or weather-related issues. In most scenarios, the burden rests with the car owner, and we always want to have the opportunity to make sure you are properly covered in every case.
Now, to auction!
How exciting! If you are headed to auction, you have either made the decision to sell or are looking for a new purchase. Either way, ensuring that all goes smoothly requires a few specific steps:
Again, make sure your vehicle is adequately covered for transport.
The same best practices for getting to a Concours apply here. If you are hiring a professional, confirm that they have sufficient coverage or that your coverage will kick in should need be. If you are doing the moving yourself or entrusting the task to a friend, double check to see that the relevant insurance is in place.
Follow all insurance requirements and best practices for the consignment period.
Before your vehicle is accepted by the auction house, you will need to provide proof of liability that covers you and the car throughout the sale process. Generally, the consignment agreement states that the vehicle is your responsibility until the transfer.
Though coverage responsibility falls to owners in most cases, there can be extenuating circumstances. At one auction in Scottsdale, 80-mph winds toppled an exhibition tent, causing significant damage to several of the cars sheltered underneath. The situation was litigated, for many years and the organizers were found liable. Still, it is always better to not have to rely on the legal system for reparations, so you want to make sure your best coverage is in place.
Bring appropriate insurance documentation if you plan to make a purchase:
Call your insurance broker in advance of the event to obtain proof of coverage, which is a requisite for bidding at most auction houses. Most insurance carriers provide coverage for new acquisitions for 30 days; however, our preferred carriers often extend to 90 days.
We understand why car collectors want to showcase the beauty and craftsmanship of their automobiles and find the selling and buying that takes place at auction almost as exciting as participants do! But with a few precautions, you can spend the next sunny day on the open field or soaking in the energy of an auction, with less worry in sight.