Don't Invite Risk to Your Next Party
Read in 4 minutes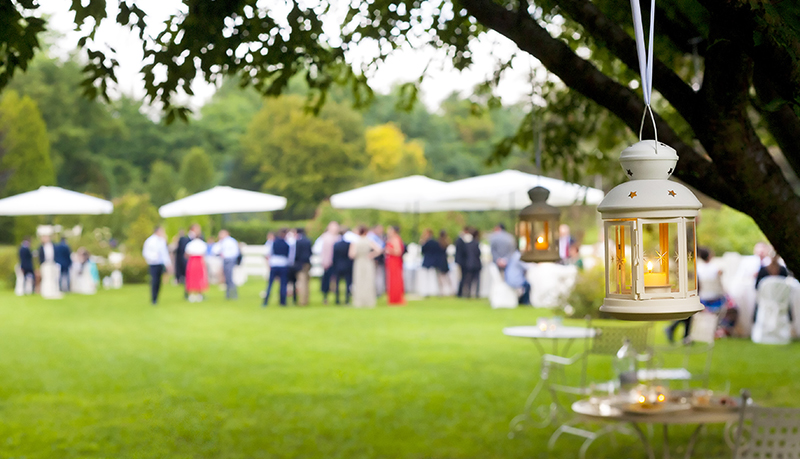 Time to celebrate, and we hope it'll be a wedding, graduation party, fundraiser or summer soiree to remember—but only in the good ways. Which is why we feel duty-bound to pause your preparations and talk about minimizing risks for (just) a few minutes.
Maybe it's the particular lenses through which we view the world, but we've seen too many festivities ruined by the late arrival of tort lawyers. To make sure that doesn't happen at (or as a result of) your next celebration, we've compiled a list of what can (and often enough does) go wrong at celebrations - along with ways to mitigate the likelihood of that happening. You'll also learn how to protect yourself in the event something does happen, or at the very least, how to prove that you tried your best to prevent any mishaps from occurring.
How to avoid the problem of…
...someone getting injured:
Use locks, guards (or both) to ensure guests and staff can't go anywhere off limits. Pools are one of the highest risks at a celebration. Best to seal it off if no one is supposed to swim. For a pool party, we recommend hiring a lifeguard, ban diving, and clearly mark the deep and shallow ends. And we are not just talking the warning signs painted on the pool – place additional signage around the pool area for extra precaution. Trampolines are also danger zones, so unless you like to roll the die, keep guests' feet on the ground.
...someone damaging or stealing items:
If you have rare art or other valuables in the home, make sure to think through the likely flow of people to ensure nobody gets jostled into the Picasso or climbs on the Calder. Alert staff to anything needing special protection and, if you are still worried, hire someone to make sure that people keep a respectful distance for the Diebenkorn.
...damage to a rental space:
While it's a fabulous idea to have your anniversary party in the Metropolitan Museum of Art, hired staff should understand the venue's rules. For example, no hanging the "Congratulations on 50 years" banner on the Temple of Dendur. (You laugh but....)
...a guest drinking and driving:
The law increasingly holds whoever serves liquor is responsible for injuries caused by intoxicated guests, so give the bartender(s) clear cutoff instructions. It's also a good idea to have someone watch guests as they leave so they can flag a cab for those that clearly need one. Alcohol and teenagers are a particular concern—know that whether or not you gave the okay for a keg party, you might be ultimately liable if the drinking happens in your child's home.
...someone harassing or harming a high-profile guest:
When the gossip columns are abuzz about the guest of honor at your upcoming book party or fundraiser, prepare for some unwanted attention. Have security in place to deal with paparazzi, gate crashers, or worse.
And how to protect yourself in the event a problem happens...
...don't assume you are covered through your homeowners or umbrella liability policy:
Purely personal events in your home are usually covered, but it gets trickier if the event is, at all, business-related. It's one thing to invite a few clients to your holiday party, and another to host a partners meeting. Even a fundraiser for a nonprofit organization could be iffy. Therefore, it is best to speak with your broker before the invitations go out so we can advise you on the best ways to mitigate your risk and ensure you are properly covered.
...put insurance in writing when hiring vendors:
Have every contract, from renting a hall to signing on a caterer, explicitly state which party is responsible for liabilities and which policies must be in place. The expense can be significant, so negotiate insurance when you discuss other terms. A cheap catering hall with an expensive insurance bill is no bargain. Contracts should also specify that any subcontractor must have appropriate coverage.
...talk to your broker about whether you need special event policies:
This coverage is typically combined with cancellation insurance. Note that these policies are precise in what they do and don't cover. You might be able to make a claim if the bride gets pneumonia, for example, but not if it's a case of cold feet.
To sum it up, you should add checking your insurance coverage to your party planning list. Ideally you should call your broker before you sign a contract to rent a space or hire a caterer. That way you can get the details right, banish the dark thoughts of potential disasters, and go back to planning a celebration that will delight your guests and honor the occasion.