All Clink, No Crash: 7 Things a Wine Collector Should Know
Read in 5 minutes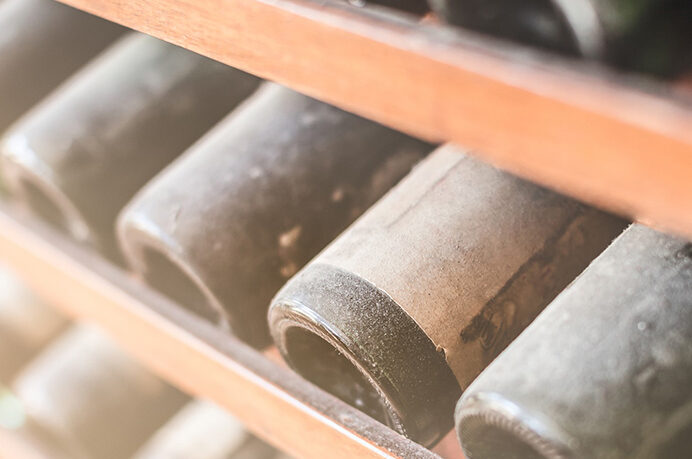 The pleasure of collecting wine is endless: your first big purchase, discovering a new favorite, scoring the bottle you've long desired—not to mention uncorking the perfect vintage. But of course, there are potential hazards.
Whether you're just getting started or have a cellar full, we want to make sure wine collecting stays purely joyful. This guide will help you keep your collection safe—and your investment protected—by outlining the essential factors to a worry-free experience.
1. Temperature is everything.
An important rule of wine collecting is: Store your wine in a climate-controlled space, because spoilage is among the biggest risks. The best storage set-ups include a temperature-monitoring system that triggers an alert whenever it gets too hot or cold. Remember that older vintages are generally more temperamental, so you might consider sending such bottles to a protected space. Some storage facilities are designed expressly for this purpose. If you live in an area prone to natural disasters, you should have an emergency generator in case you lose power.
2. Klutziness is the enemy.
Put any bottles you store at home in a dedicated space where there isn't much foot traffic, i.e. away from working vacuums or bouncing balls. If you live in a major city, there are dedicated places you can rent to store your wine. Just make sure it is equipped to store wine with a climate controlled space.
3. Swindlers abound.
The documentary "Sour Grapes" details the story of Rudy Kurniawan, who defrauded knowledgeable collectors out of millions with fake vintages he bottled in his home. Keep in mind if you're buying from a lesser-known auction house, make sure you understand the agreement terms—especially whose money is on the line if the item is not authentic. You can always confirm with a lawyer if you are not certain! And if you have a fraud protection policy, it's worth a call to your broker to determine if wine is covered.
4. The future is uncertain.
Some collectors buy "futures"—wines that have yet to hit the shelves—anticipating a good harvest. In some instances, this is the only way to get a bottle, but others buy them because the price is lower or a part of an investment strategy. All those reasons are valid, but it's easy for things to go wrong, especially in regions like California, where climate events are on the rise. Once again, determine who carries what risks before you make a purchase. Keep in mind that any insurance policy that covers your wine collection will likely not cover futures.
5. The devil is in the delivery details.
As with fine art, there are companies who specialize in wine transport. If you need help securing the right vendor, your broker can provide you with a list of recommendations with deep expertise in the market. Trucks or planes should be climate controlled and bottles should be packaged with more than just bubble wrap and tape. Also, check the contract before signing—you want their insurance to cover any losses along the way, not yours. Ask for all the same precautions with transportation if an auction house or vineyard is delivering your purchase.
6. Special lines for special wines.
While there may be no way to replace your most cherished bottle, you can likely recoup your financial investment—just not under most homeowner's policies (aside from a minimal reimbursement for spoiled food after a power outage) depending on the cause of loss. That's why most serious collectors opt for a separate collections policy. You can insure the value of your entire collection with blanket coverage (which typically includes a separate sub-limit per bottle), or if you have particularly valuable bottles, you can schedule each individually for their specific amount, which some insurers provide with 150% replacement cost to cover market jumps.
7. Prices may vary.
As with any collectible, market value spikes and dips. As a rule, you can mirror the appraisal schedule for fine art and jewelry - typically every three years. But the rarer the bottles in your collection, the more often you'll want to get it reviewed.
Also, for those investing in premier spirits - a relatively newer collectibles market - the same precautions apply when protecting your investment. The market has recently seen collectors purchasing scotch and bourbons in record numbers. A 1963 Macallan whisky sold for more than $1.5 million in 2018 at Christie's. Free tip: Connoisseurs seek out bottles from "silent" distilleries, which have closed down. But before making a major purchase, be sure to do your research so you aren't buying fraudulent bottles. As for storage, although whiskey is less finicky than wine it should still be stored in a climate controlled environment away from sunlight. Store bottles upright, as high strength alcohol can degrade the cork or alter the taste. And to protect your investment, ask your broker about a premium "all-risk" valuable articles policy, which will cover your spirits anywhere in the world.
Whether its wine or spirits, your collection is rare and well worth the time to make sure it is properly protected. Your broker is available to answer any questions surrounding that newly purchased bottle and, of course, offer a toast to your safe and protected collection.